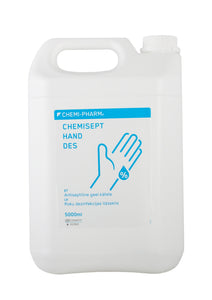 Hand sanitizers.
COMPOSITION: 100g of product contains: ethanol 73.5g (active ingredient), skin protection components

CHEMISEPT HAND DES is an alcohol-based hand antiseptic for professional use under conditions of increased hygiene, where hand antiseptic is the most important prophylactic measure to prevent infection.
It has a broad bactericidal and fungicidal effect, destroys Gram-negative and Gram-positive bacteria (incl. Tuberculosis agent) and fungi, inactivates both enveloped (incl. HBV, HIV, HCV, Vaccinia) and non-enveloped viruses (incl. Adeno, Rota).